Lawyer Kubra YILDIZ COLAK in Turkey Ankara
Attorney Kubra YILDIZ COLAK we are specialized in the affairs of foreign nationals who may need expert legal advice whilst in Turkey. The founder lawyer Kubra YILDIZ has graduated in Law in English from the Eastern Mediterranean University in North Cyprus. After which she had professional experience at the Ankara Bar especially in Business and Family Law. Now she has a team of 9 personnel and continues her success in Ankara.
The Attorneys and personnel at Kubra YILDIZ COLAK are all highly proficient in English and have experience with many foreign legal cases. We have separate departments for different legal issues; Family Law, Inheritance Law, Business Law, Insurance Law, Patent Law, International Law and Criminal Law.
Our Lawyers also importantly provide a service in Immigration, Recognition and Enforcement of Foreign Court Decisions such as divorce, Nationality, Residency Permits, Rental Agreements, Real Estate Sales, Working Permits and Visas. If you are a foreigner here we can give you the best possible legal advice and general advice for everything you may need here. Our Lawyers and personnel have a friendly and sympathetic approach and strive to give the clearest possible answers and the fastest and most effective legal solutions open to them.
Kubra YILDIZ COLAK offices are centrally located near the famous historical Hamamonu District in Ankara city. We are conveniently close to the National Courts and the Consulates and we provide a Hosting Service for our clients including airport transfers, hotel location and any general guiding on the city. We give a free initial consultation wherein the client will be briefed on the options open to them and advice on the Legal Services available
Kunye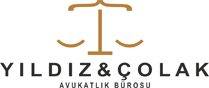 Hizmet
İlgili
Lawyer Kubra YILDIZ COLAK
,
Basamaklı Sk. No:11
,
Hamamonü
,
Ankara
-
06230
,
Telephone No.+903123639900
Bölge
Açıklama
This post is also available in: Turkish Arabic Chinese (Simplified) Russian